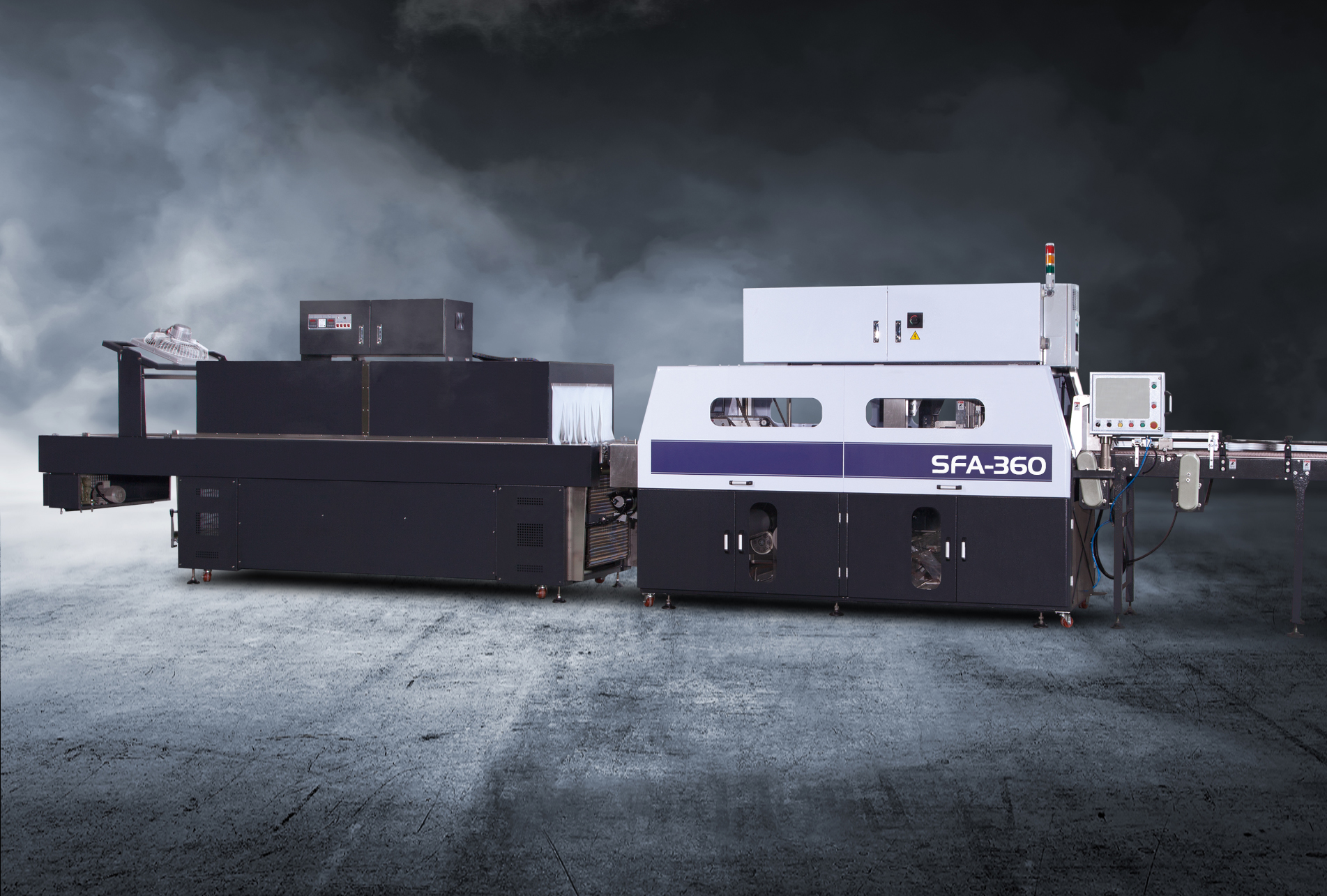 ●
Packing Speed :



A

The packing style for cans, is 2x2, 2x3, 3x4; among them, 2x2, 2x3,reaching for 80 packs every minute.

B

The packing style for500-1250 cc PET bottles (base can be five-claw) is 2x2, 2x3, reaching for 65 packs every minute.
It can mate to high-speed production operation with high-speed.



●
Film applied: PE material mono-roll film, split into 2 rolls: transparent film and colorful printing location plate can be used.
(This machine is suitably used for PE colorful print film packing, and it lets product have additional value).
A essential tool for innovation and marketing.


●
Verstile packing modes to meet the requirement of fashionable shopping mall.


●
Breakthrough traditional packing way with sealing, it eliminates the poor condition of easy breaking on the sealing part.


●
Heat shrinkage furnace has equilibrated heat radiation, and conveyor is composed of stainless steel for transmission. It is durable for use.


●
Never hurting to the quality, it saves electricity and increases the profit.


●
Safety protector is shed over outside of machine. Besides, the security inspection is designed around with safety detector and alarm system for no film condition,
can turnover condition, electric eye auto tracing for print surface, etc.


---
MODEL

PACKING MACHINE

SHRINK TUNNEL

Power Source

3HP / 220V~380V / 50~60HZ

HP

7 HP

Electric Heating 23KW

Air Pressure

5.0~6.0 kg/cm2

-

Processing Caprcity

Case : 2 x 3 = 480 cans/min

5 ~15 m/min

Film Applied

PE Transparent or Colorful Printing Film

Effective Packing Size

L : 250 x W : 200 x H : 350 mm

L : 350 x W : 270 x H : 300 mm

Machine Dimensions

L : 3000 x W : 1200 x H : 220 mm

L : 4000 x W : 1200 x H : 2180 mm

Machine Weight

1000 Kg